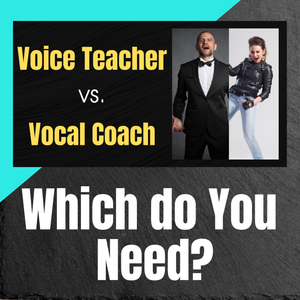 You don't need a guru.
We know other coaches will tell you that their way is the only way. Sorry, but that's nonsense.
We think that throughout your life & career, you should work with as many people as you can. That way you can cherry-pick what works best for YOU. There are a ton of voice teachers and vocal coaches out there, which means you can keep trying until you find the ones that work for you.
Before you start your search for your next mentor, it's important to know the difference between voice teacher and vocal coach. 
A VOICE TEACHER is someone who focuses on technique, particularly on breath, resonance & optimal placement. 
A VOCAL COACH is someone who helps you with interpretation, and connecting to the material for your optimal performance with some technique thrown in. 
BOTH ARE VALID - it just depends on what you need in the moment. Whichever you choose, there are a few things you should look for: 
Someone who understands the genre you sing, be it Classical, Musical Theatre or Pop. They should be able to immediately focus in on your bad habits AND offer you something relatable on how to adjust. 

You should feel absolutely at ease with them - if you don't feel like you're in a safe-zone, then your physical tension is going to consistently get in the way of your sound production and interpretation. 

At the end of the session you should feel good, not sore or fatigued, and should feel you have a take-aways from each session that inspire you to get to work. 
Finding a vocal coach or voice teacher is a highly personal decision. Do your research, ask lots of questions and keep in mind you might be bouncing from teacher to coach depending on your needs in the moment. 
Take care of your voice, take care of you, and stay focused on your goals!
Let us know what YOU look for in a coach in the comments!
Click HERE so you don't miss out on our next post!
-Kevin Kelly & Natalie Cordone- theConnectedPerformer.com