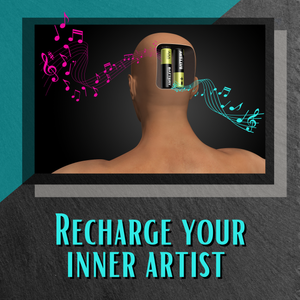 Have you ever walked off stage and felt like you just ran a marathon?
And not just your run-of-the-mill, "I'm so tired!" kind of beat, but the, "I honestly have nothing left to give," sort of exhaustion?
Being an artist can be hard, y'all.
And it's not all about the physical work. Granted, our toes bleed, our voices ache and our backs are sore, but what can take even more out of us is the mental grind of it all. 
We know how much you give of yourself during a performance. Heck, even prepping for a show takes the kind of mental focus not required in a lot of other fields. 
(Not to mention your hoards of fans vying for your attention...👀)
So, when the going gets tough, how do you stay at the top of your game and recharge those inner artistic batteries?
Feel the feels - It's always wonderful when you start a new show and a little sad when it ends. Rather than fighting those feelings, try being a "mindful observer."
From the first day of rehearsal to the final curtain, what feels good about the process?

What is a different way to interpret that scene or vocal line? 

What new things are you discovering along the way?
Rather than beat yourself up, ask questions that keep you in a nonjudgemental mindset and move you toward positive change in your art.
Feed your soul - You can't drive a car if your tank is on zero- and it's the same with our creative spirit.
For example, it's easy to listen to the same three artists on repeat. But, if you motivate yourself to find new artists in a wider variety of genres, it often leads to inspirational new ideas (funny how that works, huh? 😆) Adding a new show or artist to your playlist can inspire you to think of things you'd never thought possible.
We encourage you to read new books, listen to different music, and see as much theatre as possible. Also, try hitting a museum or grab a book on visual art to feed your creative spirit.
Focus your mind - Meditation is hard. We know. 
You may be thinking, "Who has the time to create all of these positive new habits?!"  
You do. We promise.
In the grand scheme of things, it's less about time and more about consistency. 
You don't need an hour of soul-shaking transcendence with incense and wind-chimes. Just find 5 - 10 minutes a few days a week to meditate in a "sacred space" behind closed doors.
Try to put it on the schedule and keep that appointment with yourself. In the beginning focus can be hard, but it does get easier, and the benefits are well worth the effort.
Find your tribe -  Why do most people fail at something? They lack support.  
Being around others who share your goals and work ethic makes it infinitely easier to resist getting pulled down into Instagram FOMO. A tribe can help encourage your creative spirit and hold you accountable to take action.
Get online and start looking for groups like the Connected Performer's BUILD YOUR BOOK, BOOK MORE WORK group on Facebook! 
You can even take the initiative to start a monthly brainstorming group with friends and colleagues- complete with food and drinks! Who would say no to that?
Here's a reading list to get you started on recharging your inner artist:
The Artist's Way by Julia Cameron
Steal Like an Artist by Austin Kleon
The Creative Habit by Twyla Tharp & Mark Reiter
The War of Art by Steven Pressfield
A Whack on the Side of the Head by Roger von Oech
How do you recharge your inner artist? Let us know in the comments below!