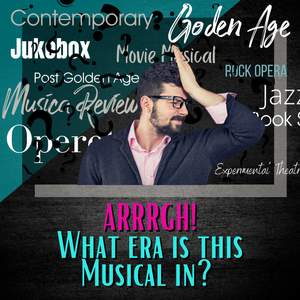 By now, you should have gotten your copy of our TOTALLY FREE guide- Book More Work: How to Discover Your Type and Choose the Right Song for Every Audition. (If not, click the link NOW!)
In it, we give you all kinds of valuable information like: 
•  How to discover your type 
•  What to do with it once you know 
•  How to organize your audition book 
•  What to put in the darned thing 
AND 
•  As a bonus, we help you toss all those deadweight songs you're carrying around in your book right now. (Seriously, you can put them in the shredder. We give you permission.) 
Now, when it comes to the organizational part of things, clients often ask us, "How do I decide which era a musical comes from?" 
It can feel a little tricky, but this information is super important. You don't want to bring in an audition piece that doesn't fit the show(s) the theatre is producing. 
Well, look no further. We've got you covered with this handy cheat sheet of the Eras of Broadway Musicals. 
Pre-1920's: The Golden Age of Opera 
Notable examples: Gilbert & Sullivan and the rise of Vaudeville. 
The Jazz Age  (1920-1939) 
Book musicals begin to emerge. Revues are very popular and larger than life production numbers are king. Enter: Florenz Ziegfeld and his Ziegfeld Follies. 
A few notable examples: No, No Nannette and Shuffle Along (which launched the career of Josephine Baker). 
The Golden Age (1940-1959) 
Book Musicals like Pal Joey, Oklahoma!, Bells are Ringing and The Sound of Music dominate the stage! 
Post-Golden Age (1960-1969) 
Experimental theatre starts to rear its head in shows like the Fantasticks, Little Me, Fiddler on the Roof, Hair and Oh! Calcutta! 
Pre-Contemporary (1970-1999) 
Rock operas like Jesus Christ Superstar, The Wiz, La Cage aux Folles, Rent and Hedwig and the Angry Inch are important benchmarks of this era, but so were sweeping musical scores like The Secret Garden, Titanic and the introduction of the family friendly Disney musical. 
Contemporary (2000-2019) 
Jukebox/pop rock musicals & movie musicals dominate the stage. 
Shows filled with popular songs like The Marvelous Wonderettes, Memphis and American Idiot share billboards with lighter fare like Chitty Chitty Bang Bang, Wicked, The Color Purple & Dear Evan Hansen. 
Current (2020 - Present) 
Now we wait to see what fabulous new trends flow from the pens of emerging book writers and composers. 
What will be the next Hamilton? Let us know where you see Broadway headed in the comments below!