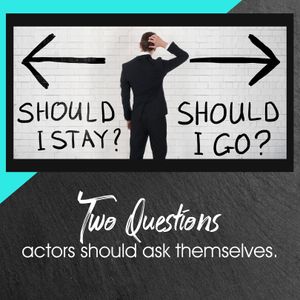 Often, our self-worth is wrapped up in how much we're booking.
There, we said it.
That's not how it should be, but unfortunately, most professional actors live a life of self-doubt. So, don't feel alone if sometimes your confidence feels like it's circling the drain. 
"What if I never book another gig?"
"What if I can't support myself?"
"What if I have to get a regular job?" 
"What if?!" 
For most of us, those two words are paralyzing.
Here's the thing: so many performers give up because they failed to approach their acting business like a CAREER.
If you reach this point of frustration, and feel like throwing in the towel, then you have two options: 
Choice #1: Stop it.
Get off your couch, push away from Netflix and the cheesy poofs and make a plan. 
Let's put it a different way.
Say you've just purchased the Ikea KULLEN night stand. You don't dump everything in the center of the room, "wing" it, and hope for the best. Instead, you systematically follow the instructions. 
If you don't, you risk ending up like Blind Al (Leslie Uggams in Deadpool) who assembles it, only to walk away and have it immediately fall apart.
Following the plans will result in producing a solid piece of furniture.
In your case, if you follow the plan, you can create a solid career. Even if you feel like you're starting with just the L-wrench that came in the box. 
Planning and consistency will get you everywhere. 
Choice #2: Reevaluate your trajectory.
I had a friend in college who went to university for four years, and got all the way to the final semester of her Elementary Ed Degree.  That final Spring semester, she showed up to her first day as a teacher's assistant ready to begin her new life.  She made it two hours into the day before she discovered that she hated working with kids. (Cue Debbie Downer sound effect). Just like teaching, this career is not for the faint of heart.  If you aren't getting the jobs you want, are emotionally spent and just can't put yourself out there anymore, then maybe it IS time for the backup plan, and that is OK.  We can lead a meaningful and fulfilled life doing just about anything. I'm serious. If it's not working, then just like Bernadette sings at the end of act 2 in "Sunday in the Park with George"... MOVE ON.  I would never tell a client to quit the business, but sometimes you reach a point when you have to make a choice, and...I can't stress this enough...it's OK. 
Both choices are valid.
If you choose OPTION 2, then it's time for some soul searching to find your next passion. There are so many other ways to have a career within the arts community, or you could go a totally different direction, follow your bliss and think of it as a new beginning.
If you choose OPTION 1, then it's time to get to work and broaden your scope. What worked before isn't working anymore, so you need to regroup and MAKE A PLAN.  Set attainable goals, get comfortable with self-tape, invest in yourself and get a career coach who can be your Sherpa through the mountains of musical theatre, and keep you motivated all the way to the top. 
They say "big journeys begin with small steps".  I don't know who "they" are, but those wise dudes are giving some solid advice. 
One direction or the other...you just have to take a step.  
Click HERE so you don't miss out on our next post!
-Kevin Kelly & Natalie Cordone- theConnectedPerformer.com