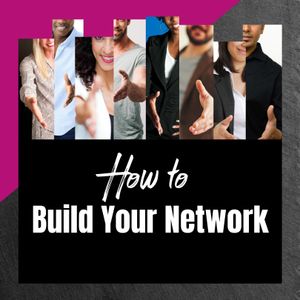 Networking is gross. 
We hate it. You hate it. 
And the reason we all hate it is that it feels like you're trying to get something that you don't deserve. It feels like you're using people. 
So, we're calling BS on telling you to go out there and 'BUILD YOUR NETWORK!' 
Instead, we want you to give.
We want you to build relationships.
We want you to CONNECT. (See what we did there?) 
After all, connecting is what performers are really, really good at. 
One of your superpowers is being open to new experiences. You're able to connect with new scene partners, stage managers and directors on a regular basis. 
So, let's explore how you can use that natural talent to your advantage when it comes to planning your career.
Who should be part of your plan?  
Teachers, Classmates, Directors, Musical Directors, Casting Directors, former cast members, friends, even family. Remember, you're giving these folks your attention and energy, not taking from them. Everyone is fair game. 

Know who is working in the industry and in your market.

Resources like social media and online classes make getting connected more accessible than ever before. Just make sure to be respectful of others' time and privacy.
Know your goal. Get really clear about your FIRST goal. Keep in mind that you'll have many goals over the course of your career, but now is the time to laser focus on the one thing you'd like to do next. 
Do you want to book a regular gig as a cabaret artist? Do you want to be an actor in-residence? Or, do you want to build your own theatre complete with rehearsal space and a dance studio?
Do research on people who have done what you want to do, learn the basics about them and look for common connections. You might know someone who has an uncle, who has a friend whose mother's nail technician has a sister who started a theatre company complete with studio!  BOOM, connection. 
Ask for advice. This is a great way to start a conversation, and most people love to talk about their experiences. If you are acquaintances, then asking a question via email, phone call or Zoom is a great way to get the ball rolling.
If you have friends or a working relationship in the business, then ask to schedule a coffee or lunch date. Learn the art of asking people about themselves and be conservative with talking about yourself.
Again, be conscious of people's time. If they tell you they have 10 minutes for a phone call, set a timer when you dial. 
Listen.  This is a great way to utilize what Uta Hagen calls active listening. Tell them what you're looking for, but don't dominate the conversation soliloquizing on your BIG PLANS. You're there to learn. Be present and absorb all the juicy information they have to share with you. 
Be visible.  Go to shows, attend classes and conferences, join social media groups. Be anywhere where there is a collective of people with the same mindset. Taking the initiative can be intimidating at first, but it does get easier the more you put yourself out there. 
Follow up.  A quick email thanking them (again) for their time is always appropriate, and let them know if something they suggested pans out. If THEY have a successful new venture, or are awarded an honor, then celebrate their achievements by sending a short, hand-written congratulatory note.  
We live in a marvelous age where connecting with people has never been easier.  Use your resources to make the connections you need, and keep in mind: TALK LESS, LISTEN MORE. Remember, the world is run by those who show up.
Click HERE so you don't miss out on our next post!
-Kevin Kelly & Natalie Cordone- theConnectedPerformer.com