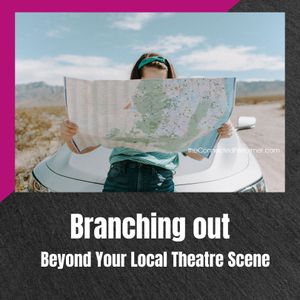 Raise your hand if you stay pretty close to home, working the same few theatres year after year.
Oh, don't you worry, we've been there, too.
It's comfortable. It's safe. You've had moderate success where you are, but in your heart, you know you were meant for bigger things.
So, here do you start?
Here are five ways to get the ball rolling: 
---
1. Talk to your peers.
If there's one thing you can count on in our business, it's the willingness of fellow thespians to talk about the shows they've done. Filter out the pertinent information, and write it down in your audition journal.
You keep one of those, right? 
2. Check out the theatre scene near family and friends. 
Do some research to find out when auditions are happening in their area and plan your getaway. If you're in good standing, they might even be willing to let you crash during audition season.
Of course, if you DO book the job, it's generally better to negotiate housing in your contract rather than relying on the "kindness of strangers." 
3. DO YOUR RESEARCH!
There's nothing worse than walking into a new-to-you theatre and it... isn't what you expected.
Find out the theatre's mission, what their season typically looks like, and who their audience is BEFORE you book an audition.
There's nothing worse than using audition material that is totally inappropriate for the show.  You wouldn't audition for a company that focuses mainly on family entertainment with a monologue from Glengarry, Glen Ross.
Well, you could, but don't expect to be asked back anytime soon.
Your research should uncover specifics about the theatre, their season, demographic, Artistic Director and their Musical Director.
You don't have to know everything about their company; your only interaction with them may be a "thank you" after the audition. But, knowing some details will help you make more educated decisions about your material and give you something to contribute to the conversation, should that opportunity arise. 
4. Master the art of self-tape.
The self-tape audition is NOT going away. Make it your friend, because it's awfully convenient.
Now, you can readily submit for gigs in new-to-you areas all over the country. (Remember all that genre appropriate material you've been working on?)
And if you have an arsenal of recorded material, you can use it for multiple submissions.
You will want to invest in a good (not necessarily expensive) backdrop, lighting, and sound equipment.  
(You can find our list of favorite equipment- complete with handy dandy Amazon links- here.)
5. Cultivate a relationship with theatres. 
Don't just submit and hope for the best. Follow up!
Sure, you could just shoot an email off to say thanks, but why not go the extra mile and hand-write a personal note?  It doesn't have to be long, but a little personalization goes a long way.
Pro Tip: Use a colorful envelope so it stands out from the standard mail they receive. 
BONUS: Revisit professional and personal contacts.
Reach out to people in the biz you haven't spoken to in a while, simply to say hello or to ask a specific question. 
Getting involved in different social media groups is another great way to get to know the latest buzz and who's out there working. 
---
Branching out beyond your comfort zone can make your stomach do summersaults, but, "nothing wagered, nothing gained!"
Keep your eyes and ears open. INVEST IN YOURSELF and get out there to explore the possibilities!
Let us know how you've branched outside your bubble below.
Click HERE so you don't miss out on our next post!
-Kevin Kelly & Natalie Cordone - theConnectedPerformer.com